October 16, 2017
Posted by:

Ritika Rajan

Category:

Social media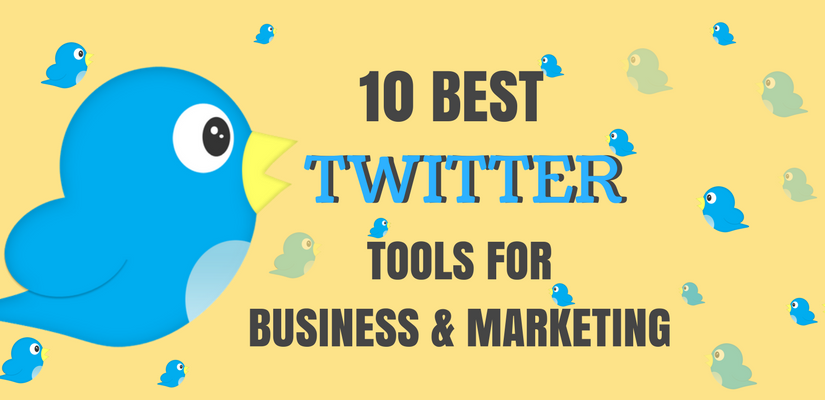 Twitter is the second most visited social media platform all over the world since 2015. That's why many great developers have created fabulous Twitter tools that can work as "addons" in Twitter marketing campaigns.
No doubt that, through Twitter, businesses have become more popular, more personable, and more successful. You can use these tools in your social media campaign and get hugely benefit by the features and tricks these twitter tools offer. Lets take a look at the top ten Twitter tools available out there-
BuzzSumo– BuzzSumo is a great tool that allows you to manage the most socially shared articles, infographics, videos and more, on any given topic. By this app you can easily check performance and control the Twitter feed, allowing you to post your tweets to other social networking sites as Facebook.
Hootsuite- Hootsuite is basically a ultimate third party Twitter Application specially for business purposes, as multiple users could be added to your twitter account with the permission of accessng you main account for tweets. Thus, manage Twitter accounts and relationships. Hootsuite works with 35 different social media sites, like Facebook, Twitter and YouTube to less-obvious social sites like LinkedIn, Google+ and Reddit. Hootsuite also operates as a notification system, sending alerts when there's unusual activity on any of your platforms. Thus, with your Hootsuite account, you can launch marketing campaigns, schedule posts in advance, identify and grow audiences on Twitter, create custom Twitter reports, track hashtags, mentions, Twitter lists and much more.
Buffer- Those who simply wants to scheduled and spread Tweets over the time during the day, Buffer is the best option for them. Buffer is easy and perfectly executable for any of the user to do Twitter analysis, determine what the audience likes out of the content they share and thus utilize the time of their publishing to maximize engagement.
CoTweet- CoTweet is amazingly skillful social media management tool, the easiest one which enables user to view tweets only directed by them separating from retweets. It is recommended for both small as well as big companies as is easily accessed through any web browser allowing up to six Twitter accounts. Moreover, it supports iPhone version, featuring a full Twitter dashboard with all functionalities. It effectively enables users tracking and analyzing discussions about their brands across the Twitter and Facebook communities.
Twitter Analytics– Now Twitter Analytics is free and open to almost every twitter user with a few exceptions, not just for advertisers and bloggers. The site is divided accordingly into 3 different categories: Tweets, followers and Twitter Cards. Twitter Analytics will show the Impression of overall data of your Per tweet, Engagements and engagement rate, Link Clicks, Retweets, Favorites, Replies, Follower interests and location (Location data is limited), Twitter Card data.With Twitter Cards, one can attach photos, videos and other media to the posts to drive more traffic to their website. It is easy to use and understand. Here, the data comes directly from the sources, enabling user to see who is driving clicks to your links. As it restricts viewing multiple accounts at the same time. Thus, twitter analytics is a nice option for the average twitter user. For power users the third party options is a better choice, as it might not suits the Power users.
TweetDeck– TweetDeck is the popular monitoring and interactive tool to use with your Twitter account, allowing user to post to other social networks, schedule Tweets, add multiple accounts, track stats, get alerts and notifications. With its multiple features, user can easily search through your timelines, engage with other Twitter users, and organize content in whatever method makes the most sense for their typical Twitter usage. Moreover, there is no need to download this app as it can access directly from the browser. Its best feature is the keyboard shortcuts that makes managing columns much more efficient, which allows user to track any event very easily. Since after 2011, purchased by the Twitter, it became the part of the official microblogging platform.
Social Oomph– It is a social media productivity tool having lots of unique features and tools that other Twitter tools doesn't have. It is perfect for both online and offline businesses, by keeping their Twitter account neat and tidy, like "Twitter maid". It allows you to schedule tweets, track keywords, save and reuse drafts, shorten URLS, view mentions and re-tweets, clean your DM box, clean your Twitter tweets, send DMs to new followers, enable self-destruct on updates, filter timelines (very useful!), secure access to your account(s), and manage up to five accounts. It helps in creating reports about the people you are interacting with, whos is sharing your brand and discover the potential leaders and consequences: the tool suggests you which people you should follow, as well as the inactive members, to unfollow.
Tribber– Triberr is a very unique tool not for everyone, using along with the Twitter account. It only works with the invitation from a member of this "closed" community, which could be group of bloggers, marketers, influencers, or social media gurus. These people will share top content constantly. Once you'll receive it, you appreciate the whole strength and support of the Triberr society.Triberr is perfect for you if you are a blogger, you can easily retweet the articles of the authors you trust. However, you can do all of that with an RSS reader, from all members of a "tribe" and then allows users to automatically or manually post them into their own Twitter stream.
TweePi– Tweepi is a Twitter management tool with stats, providing analytical information. This handy app can easily manage by its four main tools:- Flush, Reciprocate, Cleanup and Follow. The app helps in finding people who don't response your friendship request, so by using Flush feature you can get rid of those by simply unfollow them.
By using its another tool Reciprocate you find stats for those who follows you and you don't.Now, you can chose among them whom you want to follow by accepting their request and rest you can unfollow. By using Cleanup tool, Tweepi fans can easily shorten the list of their friends that send spam only or even left Twitter. The fourth tool Follow enables you in finding stats of Tweepi, who tweeps or share the same of your interest and relating to your business line whom you like to follow.
Commun.it- This is popular as Community or Relationship management tool. Commun.it gives you a basic, three-day reporting feature on the free account. If you sign up for a paid account, you can set custom ranges. The Community tab providing additional engagement options by displaying a prioritized feed attracting attention of important users. Enabling you to view the list of well-performing tweets you might want to share. The dashboard is full of useful information. By creating reports, it makes it easy to view who you are interacting with, who is mentioning your brand and determining the potential leaders and influencers: the tool suggests you which people you should follow, as well as the inactive members, to unfollow.It also has a valuable section where you can find leads – those who have engaged with your account or shared shortened links to your websites but aren't your followers.The Campaigns tab enables you to set up scheduled "thank-you" tweets for top followers and retweeters, daily "thank-you" tweets and Friday follow-ups. These are all free to use and loaded into your account. The tool also allows you to automate various Twitter activities, such as sending direct messages or posting a tweet. By this you can engage with up to 20 people for free. Moreover, If you like what Commun.it offers, you can pay a small fee for the premium version.