May 27, 2016
Posted by:

1Solutions

Category:

Social media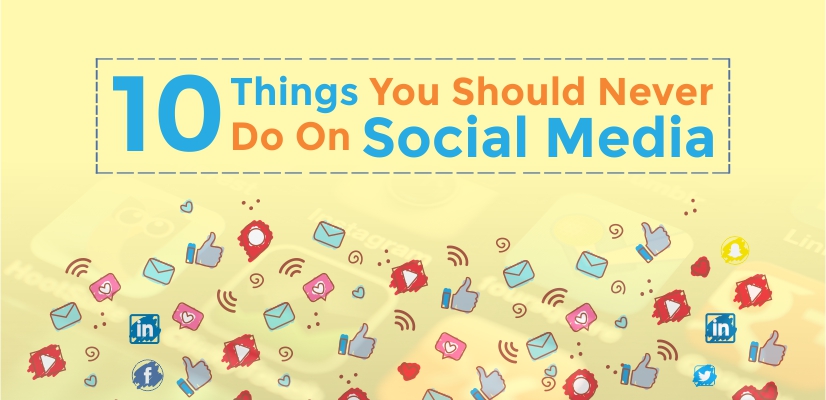 Shakespeare famously said "What's done cannot be undone". Whereas there was definitely an entirely different, unrelated context in which it was said, the truth of it still holds true, especially in the context of social media where things once posted, until really fast, cannot be undone without any reactions. Whereas there are many benefits of social media in terms of communication and connect , there definitely is a fine line between use and abuse and with the 'viral 'nature of the reactions social media can generate within an absolutely short time , there must be an understanding of what we should never , ever do on the social media. Let us look at the top 10 such things that we should avoid to do on the social media.
1) Racial Comments – Social Media is an extremely effective way to share opinions, even the ones which are controversial or political but there must never be inferences made to racial profiles or religious inclinations of people. Strict No.
2) Doctoring Pictures – Pictures should never be doctored and reposted, at least not without the express permission of the person directly concerned. It is not funny and people can take quick offense.
3) Swearing – It is never cool to use unacceptable language on social media pages. It creates a negative impression of the user and also some people might not understand the context and find it offensive.
4) Comparing Yourself To Other People – Social media is not the best platform for comparison of yourself or your activities to that of others with a view to make them feel less important/less successful. It creates a negative image.
5) Lie – Lies on social media has great chances of exposure, especially with a little research. Avoid it.
6) Keep That Ego in Control– Picking up a public fight on the social media doesn't solve any purpose except tell people how intolerant you are and have them have a good laugh at your expense. Do not fight/argue publicly in social media. If you must, stick to private chats to express dissatisfaction on a topic.
7) Trust People easily – There are multiple examples of people being scammed online. Before sharing any personal details, ensure that you know the person outside of social media and trust him/her enough. In any case a lot of social media profiles are fake, so be careful. The same holds true, obviously before considering romantic relationships. Most people on social media present themselves in a different light than they really are in.
8) Stalk a former Partner – It is widely seen that many people use the social media to stalk the former even current partners by snooping on their accounts and trying to find out what they are up to. It's a negative feeling and a dishonest thing to do. Must be avoided, especially in the interest of moving on. And doing that amicably and stay friends.
9) Post Pictures without Permission – We all do it from time to time specially when posting group pictures/ event pictures. As much as possible permission should be sought from all the people whose pictures you want to post, some people are more private in their lives and mannerisms and wish to stay so.
10)Repeatedly sending Private Messages – Now that the alibi of not knowing whether a message has been read is gone on most social media with some king of 'seen' or 'read' notification , it is important to realize that the person is not interested if he /she hasn't gotten back . Repeated private messages reek of desperation and at one point harassment. Better avoided than to be unfriended, I think.