November 6, 2018
Posted by:

1Solutions

Category:

SEO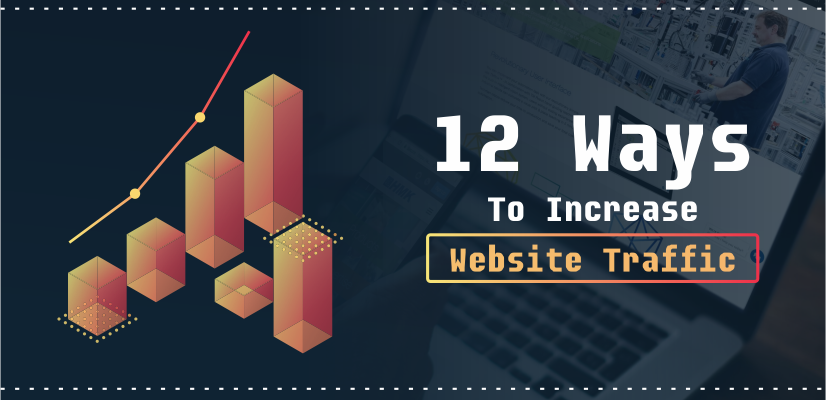 With 1 billion websites on the internet, do you have ever thought, how are you going to increase your website traffic? As a marketer, you need to create a strong web presence that enhances the sense of trust among your customers. Here are some 12 crucial inputs that help you to approach your potential customers and ultimately your target for good ranking.
1. Engage in the High-Quality Blog:
Blogging is the best marketing tactic to drive a large volume of organic traffic, your website receives. As per Google norms, content plays an incredibly important role in SEO. It always appreciate the authentic and compelling content in the form of blogs for serving the searchers useful and up-to-the-point information.
2. Email Marketing:
Email marketing is one of the inexpensive and audience-targeted marketing tools. With the help of effective email marketing strategies, it's easy to build up the subscribers community for your business. Once you gather a good mail list, then sync your page with email marketing campaign Now, whenever you send emails to your community, they offer detailed information about your brand and ultimately increase traffic to your landing page.
3. Interactions Across Social Channels:
It's not enough to produce high-quality content as you need a platform where you share it with your audience. Needless to say, social channels are the one stop solution for all your needs. Your active accounts on Facebook, Instagram, linkedin, twitter help to strengthen your online presence and promote your content there.
4. Focus on Guest Posting:
One of the best ways to drive traffic to your website is producing a comprehensible guest post. It helps to expand your perceivability on the online platforms and portrays your brand authority in front of your audience. Besides it, guest posting brings good quality backlinks to your site, which offers an advantage to your brand at time of ranking in search engines.
5. Use of Infographics:
Infographic is the great source of web traffic, as this is human nature that we all get attracted towards visual content rather than long posts. Infographics are the graphical way to cater the long story in short. Hire professional infographic designing services and provide the eye-catching infographic across social channels.
6. Optimization:
Although website optimization needs professional support, however, you can follow some basic steps to optimize it your own. Research for industry-focussed keywords in your headlines and add some links, meta descriptions to your website. Moreover, there are several tutorials on the internet that guides you a step-by-step process for optimization.
7. Strong Link Building Strategies:
Link building is a crucial input for driving the traffic to your websites. When you post the relevant content on your social networks and web portals, audience vote it in the form of backlinks. The more the high-quality links, the better the ranking on search engines
How Professional Link Building Services Can Boost Your Website Traffic
8. Creativity with Social Media Ads:
Nowadays, there are millions of active Facebook users across the globe so this makes difficult for web owners to keep their brands' name in the competitive landscape. Social media ads are the best way to boost up your followers on social media channels.
9. Join Another Social Group:
Marketing is a two-way road. The more you active on social media, the more you get in return. Give your time to other sites related to your niche and join the conversation there. It does not guarantee an increase in website traffic, however, your thought-provoking comments or reviews attract the readers or to get your brand's name out there.
10. Eye-Catching Visual Content:
Studies show that more than 50% of social media followers like engaging and eye-catching visual content for promotions on such platforms. If you are a business owner and running a campaign to increase website traffic, then choose the funny and captivating visuals and share them on different social channels to provide a pleasant customers' experience.
11. Analyze Your Efforts:
Google analytics is a powerful tool that keeps a close eye on your most trendy web pages as well as your targeted demographics. So it is suggested to spare some time and analyze your efforts and accordingly use it for your content strategies.
12. Boost up the Speed of Your Site:
Needless to say, how bad is this when your customer is looking for your content or image and it fails to download or take an extra load time. This makes a bad impression on the audience and makes your bounce rate sky high.