November 28, 2018
Posted by:

1Solutions Team

Category:

SEO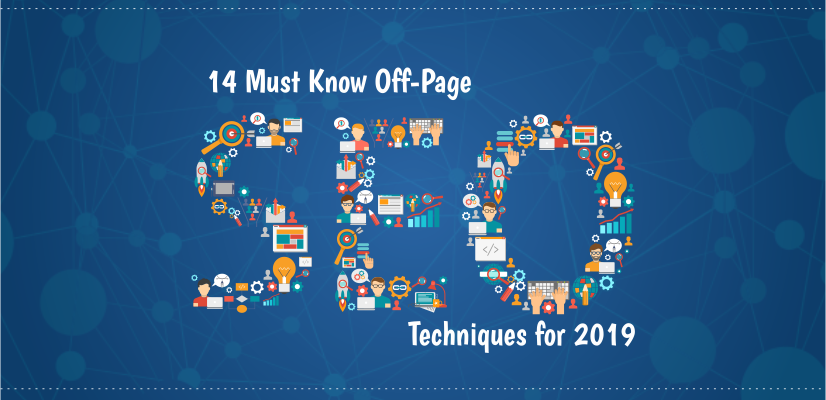 SEO, SEO. SEO…an incredible important part of online business. SEO (search engine optimization) is a measurable metric for search engine behavior, daily searches, used keywords and more. It focuses on the optimization of websites or web pages to remove all the barriers come across the indexing activities of search engines. It is of two types: off page SEO and  On-page SEO.
On-page SEO activities are the practices that you do on your own sites to improve its ranking and organic traffic. its main components are headings, titles, meta descriptions, URLs, images, domain name and more.   
Whereas, Off-page SEO means to optimize the website through the use of content, relationships, and link building factors. It comprises of social media marketing, content marketing, social bookmarking, link building and more to gradually increase the ranking, traffic to the sites.
The goal of this post is to create awareness about the off-page SEO techniques that can help you in the coming year 2019, for making your efforts a reality.  
Participate in the Comment Section:
Besides promoting your own content, regularly visit the latest blogs on the internet and leave the comment there. Commenting on the blog posts is one of the best approaches to communicate the new audience and to strengthen the relationship with other bloggers and web owners. If it is practiced in the right manner, then it is the most simple way to get quality backlinks.
Guest Posting:
Guest posting or guest blogging is a method of getting quality backlinks for better ranks in search engines. As a guest, one blogger contributes his blog or post to some other's blogging site and get links, authority, and exposure to a new audience in return. So write an amazing piece of informative content which can be shared as a guest blog on a genuine website and enjoy an array of quality backlinks.
Social Media Activities:
Is there any need to repeat the numbers here to depict the reach of social platforms across the globe. Today, it has become impossible to think of any new business or marketing strategy without taking social media into consideration. It is the largest platform to engage your audience with your business objectives and activities.
Share Content on Every Platform:
No content, no audience. No audience, no growth, no online business. However, just having the quality content is not the last step. You need to share it on as many as a platform you can, to increase the probability of approaching the right audience at the right time. So research often and always promotes your content on different platforms.
Forums:
Exchange of ideas always helps in learning more. So search for some relevant forum discussion related to your products and services. Show your participation there, actively reply to the threads, build relation with competitor and audience, analyze the given suggestions and more to understand your niche and its demands in a detailed manner.
Shift Focus to Social Bookmarking Sites:
Being listed on the social bookmarking sites is extremely important to gain a good volume of organic traffic for websites. As whenever a visitor searches for a topic on social bookmarking sites, then these will show up your websites if it's relevant to the search. So start looking for popular social bookmarking sites like Digg, delicious and bookmark your pages, blogs there as a website promotion strategy.
Newsletters:
Generating Newsletters is one of the cost-effective methods to offer information about your services to your potential customers. Content provided in newsletters should be short and interesting enough that when readers finish reading, they have a complete idea of how it would be to engage with your company or brand. Moreover, when they leave, they wish to have forever business with your company.
Question -Answers:
Have you ever tried Quora, yahoo answers? If not yet, then it is suggested to trace your presence on such high-authority platforms? Search your niche related questions there and answer them in your best style. If you manage these platforms with care, then they will drive both traffic and links for your website. Once the audience gets convinced with your answers or posts there, it can become one of the biggest game changers for your company. However, remember, don't forget to leave a link back to your site as it increases website's visibility.
Take Charge of Videos:
Nowadays, videos are creating magic in marketing, branding, and promotion for websites. If you are also planning to popularize your videos, then search for the top-listed video submission sites in your budget. Add proper descriptive content there including title, meta tags, reference links, and more and enjoy quality links in return. Some of the most popular video submission sites are youtube, Vimeo, Dailymotion, Photobucket and more.
Talk About Your Brand:
If you gain the trust of your customers for once, then there is no need to work hard as an SEO to promote your brand. All you need to create an engaging circle for your brand where people often talk about your brand either by boosting social engagement or content marketing. In short, whenever possible, try to build authority and trust for your brand.
Customer Service:
Bad customer services may ruin all the efforts of your SEO team, online reputation management team. It just takes 2 minutes to destroy the image, build upon the foundation of efforts and dedication of several years. So, you need to be sure that either online or offline, you need to cater your customers with utmost care. You need to e responsive to their queries and support them whenever they need.
Make Use of Document Sharing Sites:
Apart from blogs, guest posts, web content, you may invest your time in drafting credible documents in the form of ppt or pdf. Content provided in the documents need to be of high quality and aimed for targeting your business objectives. Submit these written formats to document sharing sites like SlideShare, issuu, calameo and more.
Give Priority to Customers Choice:
Your customer is the real king, and it's your duty to respect his needs and choices. You need to serve the best services and products to your prospective customers, based on their requests.
For instance, if you are writing a blog to address your audience then remember it's each word should be of worth to read. Often you need to search the changing requirements of your client and try to cater them accordingly.  
Analyze Your Metrics of Efforts:
Whatever be your goal, never miss out the chances to analyze your own efforts, plans, and strategies. You need to be aware of your weak points so that you can improve them or correct them for boosting up your performance.
Final Thoughts:
Off-page is an ongoing process and its need to update on time for having new quality links. Everyday, you need to layer upon on what did you did last for better performance. So, in addition to on-page SEO activities, keep your focus on above-mentioned off-page SEO tips to rank your websites higher and ahead of your competitors in 2019.
We will take your leave with a hope that this post will be helpful in solving your queries and benefits you the way you want.