October 11, 2018
Posted by:

1Solutions

Category:

SEO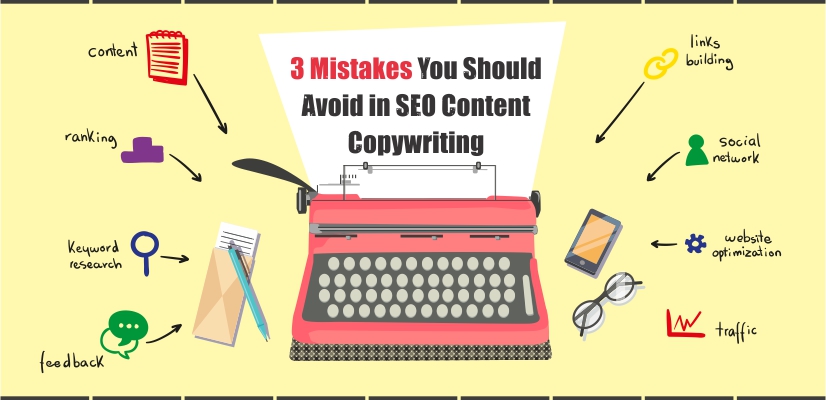 In the past 10 years, SEO has gone through several shake-ups. In its initial days, it was nothing more than a patchy board filled with gimmicky keywords and spamming links. Thankfully over the years, Google has reshaped its definition for a good content. Now it focuses more on quality of content rather than matching keywords for ranking the websites.
Still, there are some so-called content writers in the industry, who don't prioritize Google's SEO guidelines. They believe keyword-centric optimization still works the same way in search engines as before. So if you are an SEO content copywriter, then it's worth noting that Google often rolls out major updates to its search algorithm that needs to be followed. Besides it, there are some common mistakes you should avoid in SEO copywriting for a quality content.
Clogging up with Keywords:
For beginners, this is one of the most common mistakes they do in SEO content copywriting. Although its true, SEO primarily focuses on search-friendly keywords and phrases, however, some writers take this to another extreme. They clog up the whole article with keywords in order to rank the website high on search engines.
According to professionals, the unnecessary repetition of words or the addition of words that are not relevant to content is an attempt to manipulate the SERPs. It shapes your content into a patchy board. So remember one thing whatever the situation is don't stuff your content with keywords in an unnatural way.
Excessive Grammatical Mistakes:
Let be honest you will have zero credibility score for your websites if your SEO content is full of grammatical and spelling mistakes. It's quite obvious, if you are unable to generate fair go casino error-free content for your websites, then how a client trusts you for glitch-free services. Mind you, these niggling mistakes won't affect your ranking much, however, may drive your potential customers away from the websites.
There are some common grammatical errors like subject-verb agreement, improper participles, and passive voice that may raise red flags for content.
So always try to avoid such mistakes and spare your time to double check your work. Indeed there are several free grammars and spell check apps on the internet to resolve such grammatical issues.
Duplication of Content:
Copy-pasting is not just an error whereas this is deceptive in origin. Duplication of content affects your ranking on search engines as well as your relationship with your clients. Nowadays, Google tries hard to rank the sites with distinct information and highly penalizes the thin and recycled content.
So always try to update your websites with fresh and authentic content. In case, if you are publicizing the same content on multiple pages of your websites, even then it marks as the duplicate content. So it's advisable to go through the topic well before writing and outline the content in different words to avoid thin or duplicate content. Nowadays, you even take help from online plagiarism checker like Copyscape to eliminate the probability of duplicate content.  
Conclusion:
Just remember, SEO is the most crucial element for web pages that appeal to users and the search engine itself. So, avoid using such common mistakes while writing SEO content as there is a delicate balance between SEO and SERPs. Try to put only relevant and fresh content on your web portals to drive the quantity of organic traffic.