April 4, 2018
Posted by:

Atul Chaudhary

Category:

SEO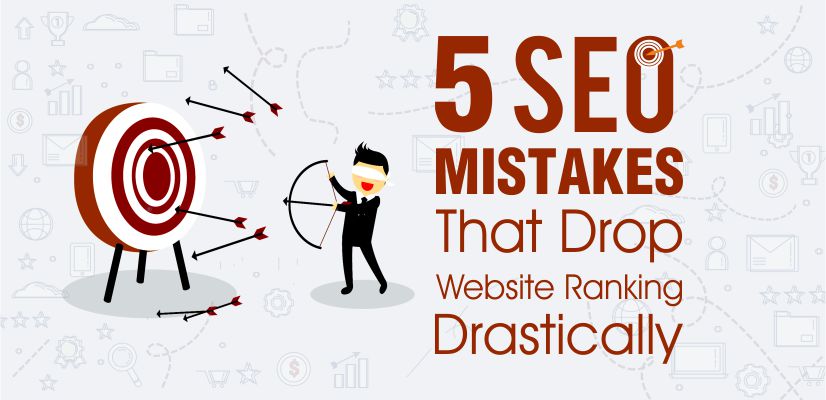 Everybody wants to rank their website on top in Google organic searches. This is why people hire the best Search Engine Optimization firms and spend good amount of money to get top rankings.
Once you achieve  top ranking for your website and you are on top results for your targeted keywords you will receive good traffic in terms of calls , leads and and queries. But sometimes, you may find either your website is not coming on top or there is a windfall in the organic rankings.
Why this could have happened and what can be done to fix this?
There can be a number of reasons for drop in rankings. Sometimes it can be due to a mistake in your SEO campaign or a Google Penalty. Let's see what are the 5 common reasons for drop in rankings and what can be done to correct it.
Poor Link Building Technique
If you are building non relevant backlinks to your website it can definitely harm your organic rankings. Ensure that the links are build in authority websites and Anchor text is used with variation.
Black Hat SEO Technique
Avoid using any Black hat or grey hat SEO technique. Usually the websites that deploy Black hat techniques get penalized sooner or later. Quick rankings can be enticing but in the long run only ethical SEO can help you achieve top rankings.
Bad Quality Content
If your content is copied from somewhere else or there is low quality content the website if can result in rank drop. Ensure that your content is accurate informative and relevant.
Uneven Link Distribution Profile
Very often a lot of websites create backlinks targeted at a single page or keyword. There is no link diversity.  Make sure that you do not create backlink targeted only at home page. Build links to other pages and keywords
[bctt tweet="Having an evenly distributed link profile is an important ranking factor." username="1solutionsbiz"]
Google Update
As we all know Google search algorithm is updated hundreds of time a year. While some updates big and disruptive most of them are mine In impact. Is there is a sudden drop in your rankings you need to check when the Drop happened and if there was any Google update near that time frame.
Conclusion:
While there are many other reasons that can be behind the ranking drop, the above mentioned reason are the most common. If you have experienced a drop in your SEO rankings,  you should go for a complete SEO audit and take corrective measures accordingly.