December 26, 2017
Posted by:

1Solutions

Category:

SEO, SEO Updates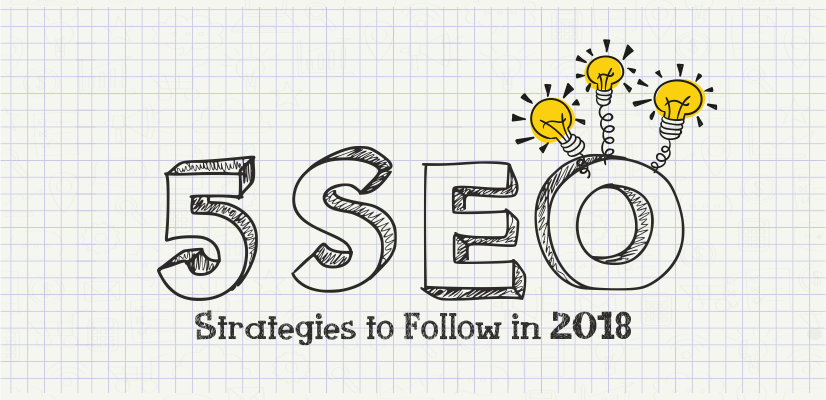 Hello fellas …Are using SEO services to promote your website on Google. Did your SEO strategy and work plan did not meet your goals and expectations. Well as we stand on the brink of 2017 and ready to welcome 2018 with rejuvenated energies and plans, here is a list of 5 SEO strategies you must implementation in your SEO campaign to make it successful and deliver better results.
1. Focus on Content Creation
To make the most out of your SEO campaign, focus on good content creation. If your website is regularly posting user focused content, Google is definitely going to notice your website. Topic focused on 'How To' or 'Guide to' will help your website a lot in terms of bringing traffic outside your target keywords. Such topics will ensure you a regular flow of visitors to your website. This will overall impact your website in terms of traffic, authority, sessions etc. Interlinking your targeted pages will definitely boost their positions in SERPs.
2. Focus more on On Page SEO
Around 70% of the SEO's solely focus on performing off page SEO activities. There is a mad rush to more and more activities and build as many backlinks as possible. If you are not focusing at on page issues your are missing out big time. There is a big possibility that your SEO campaign will last eternity without delivering you the desired results. Content quality and placement, page load speed, device friendliness, user experience etc are some of the key performance areas you need to take care of.
3. Target Low Competition Keywords
Every business wants to rank their website on top for highly competitive keywords. Obviously highly searched keywords have greater competition and it's difficult to move the existing ranking websites in short span of time. For this you need to have a mixed keyword targeting strategy based on optimizing the website for low searched keywords as well as moderate competitive keywords. Once your website is visible in searches for these keywords, you can incorporate little more competitive keywords. You need to keep working in your low searched keywords until you are on top of search results.
4. Local SEO will Take Your Business to Places
Stop going mad behind the SERP's and focus on local SEO activities as well. You will be surprised the amount of leads and response you can get locally if you are visible on top in Google business listings. It will help your business overall in terms of bringing traffic and highly qualified leads.
5. Engage a Professional SEO
I receive 4-5 mails daily from people claiming themselves as SEO expert. These mails claim to rank your website on top in few weeks and as low as for the tip you give in a restaurant. Many of you might have tried their services and would have quit after few months. Question Is it worth your money trying such services. I will suggest you to give a miss to such mails. Such scammers are everywhere and are expert in making you believe that can shot stars and moon for you. Hiring a professional SEO company will not only save your money but will also yield you much higher ROI. Ensure that you check their past work, ask for references and set the KPI's (key performance indicators). Fix the deliverables from the beginning and fix the weekly or monthly deliverables.
I hope you will try to build up your SEO campaign keeping in mind the above mentioned points and make the most out of it in year 2018.