January 8, 2018
Posted by:

Atul Chaudhary

Category:

SEO, Web Designing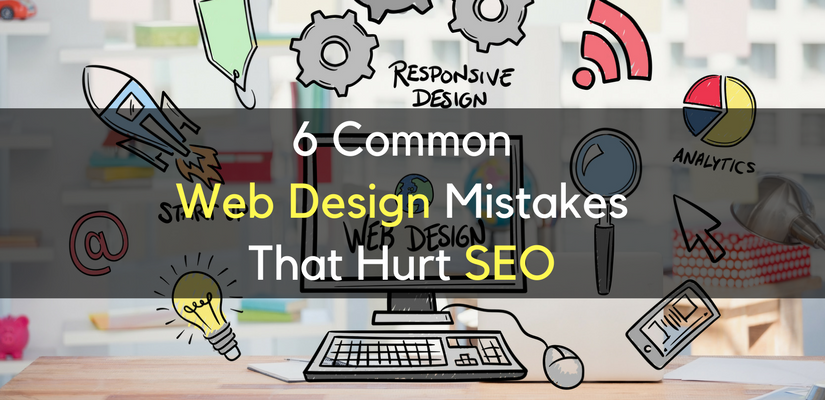 A beautiful web design is the first thing a user notices when he lands on a website. A visually pleasing site enhances the user experience and makes him interested in your products or services. But a beautiful website doesn't guarantee traffic if not optimized properly for search engines.
To be able to drive traffic, a website should have a right mix of aesthetics and search engine friendliness. So while you are focusing for a visual elements, you should always design your website by optimizing it for the users as well the search engines.
Learn the six common website design mistakes that hurt SEO. These web design mistakes can seriously effect your website SEO and be an obstacle to achieve top rankings for your website.
Mistake 1: Wrong Header Tags Implementation
Over 50% of the websites suffer from the problem of missing header tags or wrong implementation of header tags. Many webmaster often do not notice this or overlook this problem. But it is a seriously flaw and can severely impact your SEO efforts.
Unless specified, a web designer will not undermine the importance of proper implementation of header tags.
The most common website design issue is too many repetitive heading tags at multiple places. This can be easily rectified without compromising your web design.
Having proper H1, H2 tags improves your chances of ranking higher in organic searches. Proper H1 and H2 tags with your target keywords can really help you website specially above the fold can boost your SEO rankings.
Mistake 2: Heavy Images & Media Files
Though images are important for your website, large images can take a toll on your website SEO. High resolution image make your website loading speed slow down thus impacting your overall SEO score.
The best way around for this is to compress your images or resize them to make their size smaller.
You can check the page speed through  GtMetrix or Google PageSpeed Insights tools to check the images that are slowing your website. Using a CDN server is another good technique to prevent the heavy images and media files slow down your website.
Mistake 3: Non Responsive Website Design
With more people using mobile, the importance of a mobile friendly web design cannot be ignored.  All search engines have place mobile friendly feature as an important ranking factor.  Google had launched an update to demote non mobile friendly websites in 2015 as well.
If your website design in not mobile friendly, you need to fix it to make it all device friendly. Having a responsive web design will also help to reduce website bounce rate.  So if your website is no responsive, you should ask your web design to make it responsive.
Mistake 4: Text in Images
Often to make the website more please and visually more attractive, we use text in the images. Images with text are also liked a lot by the users but not search engine bots.
Search engines love the text but not the images with text. Search engines cannot see the image humans do. They cannot reach the text that is put in an image. So when designing, web designers need to remember that search engines will ignore the text on the images.
The same text is not be visible properly in the mobile devices. Thus leading to a bad user experience.
The best practice to follow in any web design is to use text instead of images so that SEO is not hampered. If an image is used, you should add proper description and alt tags.
Mistake 5: Infinite Scroll
Infinite scroll is a web 2.0 element that is quite popular these days. An infinite scroll feature allows more content to load as the user scrolls down.  Infinite scroll allows more content to load if the user scrolls down.
This is an effective technique and helps in increasing the average user time spent on the website. As the user get more and more content as he scrolls to the bottom of the sites, he is tend to spend more time on the site.
But this web design strategy can seriously impact your website SEO if not properly implemented. If the pagination for the webpage is not set correctly, the search engine bots will be unable to crawl your pages.
Mistake 6: Thin Content
Often to make the website look good, webmasters miss the content part. Adding good amount of content in your webpage is quite important. But the search engines always prefer websites with good content.  Therefore if you have a website with thin content you are really losing in terms of SEO.
Ensure that you web design is such that it incorporates good amount of content to boost your SEO campaign.
Search engine bots love content and any website with good content will definitely get an edge in the SERPs.
The Conclusion-
Always avoid these 6 common mistakes that can hurt your website SEO. If you are designing a new website or revamping your existing website, follow the above guidelines. Remember a good website is essential but have a SEO friendly website is more important.