November 15, 2014
Posted by:

1Solutions

Category:

wordpress development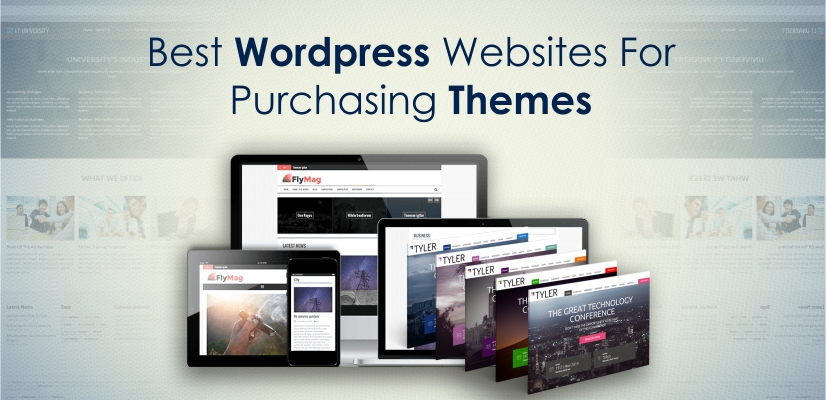 A theme or template is a ready to use design and layout that you can use onto your existing website. Free themes come with some limited version, but purchasing a customized theme come with quite a bit of options with lots of goodies. If you are not aware with some of the famous and useful sites for buying a pre-built theme, you may end up searching for the right theme for hours without getting a theme that you can really like especially when you are starting out with building websites. Here is a list of some sites that are well known for providing beautiful themes that are customizable and compatible with almost every plugin, you can choose a free theme or a paid theme as per your requirements.
1. Themeforest.net: ThemeForest comes at number one place in this list. The site provides HTML templates and themes to purchase for every CMS like Joomla, WordPress and Drupal. Their prices start from just $5 to $ 50 that are based on the quality, complexity and the file format. The site not only provides themes and templates, but also owns a community of web designers and developers. It provides a platform to ask questions to the experts in the forum and can express your views on any item
2. Templatemonster.com: Template Monster is an A-size depot of HTML templates and themes to purchase for every CMS like Joomla, WordPress and Drupal. It has more than 46,000 designs to choose from. Each product is available with several price options. If you are not skilled in editing a template on your own, you can order customization services to change the content, color scheme, implementation of the logo etc. as well as 24×7 online supports. You will get the source files for every HTML template; CMS based theme, eCommerce website design or any other template along with free samples to download before the product.
3. Elegantthemes.com: Elegant Themes are crafted with a goal of simplicity and professionalism. Moreover, each design is loaded with the modest elegance that lives up to the name. You can purchase themes under three category Personal, Developer and Lifetime Access, price ranges from $69,$89 and $249 for each of the plans. Even if you want to buy a single theme, you will have to buy a complete package of $29.
4. Woothemes.com: Woo Themes is still the most popular destination to purchase WordPress themes. They are the oldest with amazing themes even today. The site began with a handful of commercial WordPress themes but now offers a complete catalog of feature rich themes and a suite of plugins. The themes on Woo Themes only work on self-hosted WordPress installations, the CMS that you can download from WordPress.org. If you have a WordPress.com hosted website, the themes from their site will not work on your site. The Woo Themes provide a comprehensive "all theme package" to them who are multi site owners, a freelancer or a web agency only in $300 with 1 year access to all new themes with unlimited current domain use. You can even download free website themes under free category and others by paying a few bucks.
5. Themetrust: ThemeTrust is a place where you can buy, easy to use beautiful WordPress themes with a high level of quality and attention to their themes. You can purchase any theme in just $49 under Business, E-commerce, Magazine, Portfolio, Responsive category with a handful of plugins.
6. ithemes.com: you can find the itheme quite useful for the theme and plugins, it provides. Many features that you can get are divided into Add-ons and only visible as per the specific needs of your selections. If you want to change the selected theme in the future, you don't need to change the layout, views and widgets from your site. It also gives three package options under Single Theme for $80, Developer Theme for $150, All Access Pack $197 with different features and benefits.
7. Templatic.com: Templatic has professional looking WordPress designs with professional code and theme updates. The themes eliminate the need for any additional plugins or extensions. Their prices for premium themes range from $65, $99, $299 for Standard, Developer and The club packages respectively. You can also get some useful plugins on their site by just paying $39.
All the above mentioned sites are run by designers and developers who understand design as you can see in the quality of each theme once you browse through their collections. Premium themes have a lot to offer more than what a free theme can offer therefore if you want to set a website real quick, buy a paid theme as it offers quality far superior than a free theme.
1Solutions is one of the best WordPress Development Company in India, which providing professional WordPress design & development services, responsive website development, logo design, application development, website designing services, eCommerce website design and many more.