July 9, 2018
Posted by:

1Solutions

Category:

Website, website designing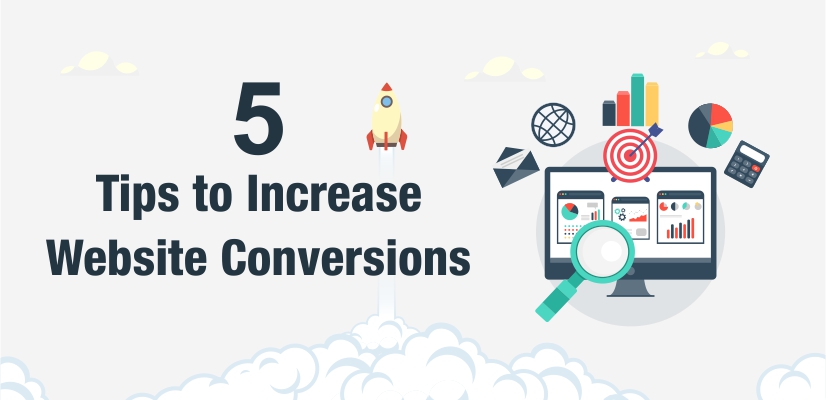 It may happen that a lot of visitors visit your website daily but it is not important they are your fixed website visitors. They may be new visitors. It is not necessary that your daily website visitors are your permanent visitors. But, you can make them permanent. It is definitely in your hands. Here are five tips to increase website conversions.
Be Strict with Your Marketing Pages
Today, people are aware and more informed than they were before. It is not easy to fool them. So, it is you who needs to be strict with yourself and your marketing pages. To keep visitors on your page, you need to ask yourself following questions, Is the text you have written is web friendly? Are you using engaging images that attract the reader's attention? Are the benefits and uses of your product clear? The claims you make in your content is evident or not? The answer to all these questions will make your marketing easy.
Understand the Studies
According to studies, for the web pages with heavy texts, a reader's eye naturally starts in the upper left-hand edge of the page and moves in a F-shaped pattern, ending at the bottom of the page and for pages with less text, like a homepage or website with minimalist design, users' eyes track in more of a Z-shaped pattern. Zapier has designed their home page with this in mind. Follow the study to make your visitors permanent.
Add Pop-Up, Slide in or Sticky Offers
The pop-ups and offers can be highly annoying but it can also be helpful if a visitor in case needs it. So, add pop-ups, slide in or sticky offers to your website.
Keep on Blogging
You should never stop blogging if you want your visitors to visit your website. Write consistently and add useful information to your blogs which readers would want to know.
Add Text-Based CTA
Visitors are much more likely to click on well-placed anchor text calls-to-action on a page than they are to click on something that looks like a banner ad. So, use text-based Call-to-Action.