June 18, 2018
Posted by:

Ritika Rajan

Category:

Google Updates, SEO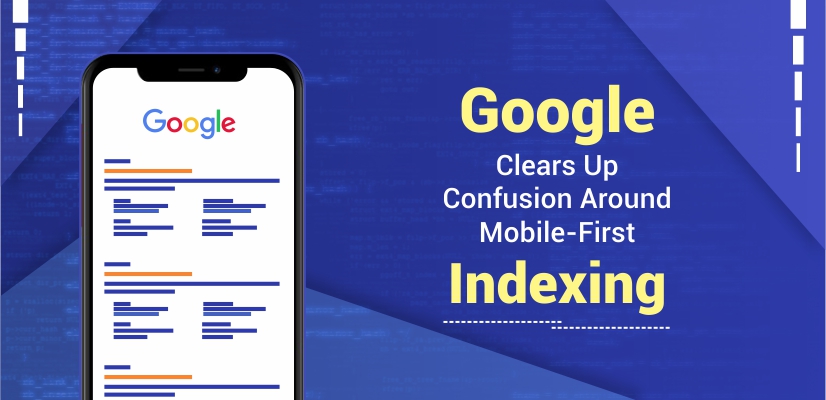 As Google started to roll out mobile first indexing, a lot of confusions around it occurred. Now, the search giant decided to clarify a few points regarding the mobile-first indexing and posted on Twitter. Before we tell you about what Google posted, let us remind you about what the Mobile-First Indexing is.
What is Mobile-First Indexing?
Google's crawling, indexing, and ranking systems have used the desktop versions of a page's content which caused a lot of issues for mobile searches. To make mobile searches easy for the users, Google came up with Mobile-First Indexing.
Is there anything we missed? Are there aspects to mobile-first indexing you'd like more information on? Let us know here!

— Google Webmasters (@googlewmc) June 14, 2018
"To recap, our crawling, indexing, and ranking systems have typically used the desktop version of a page's content, which may cause issues for mobile searchers when that version is vastly different from the mobile version. Mobile-first indexing means that we'll use the mobile version of the page for indexing and ranking, to better help our — primarily mobile — users find what they're looking for," wrote Google.
Clarifications made by Google
Confusion regarding URLs
Google will show the mobile searches on the mobile URL and the desktop searches on the desktop URL even if you deploy two different URLs for mobile and desktop. Also, in both the cases, the indexed content will be of the mobile version even if Google shows the desktop URL.
Crawled counts: The total number of crawled URLs/day generally won't change, but the balance will shift from mostly-desktop to mostly-mobile crawls. During a switch-over to mobile-first indexing we may temporarily crawl more as we reindex everything.

— Google Webmasters (@googlewmc) June 14, 2018
Changes in Crawls
According to Google, there will be no change in the crawl count per day, the only change is that the balance will shift from desktop to mobile crawls. Google also may temporarily increase crawling while indexing your website.
Cached page: Unfortunately, it looks like we're currently still not showing a cached page for many mobile-first indexed sites. This is a bug, not by design, and should get resolved over time. It's just the UI, it doesn't affect crawling, indexing, or ranking.

— Google Webmasters (@googlewmc) June 14, 2018
Cache Bug
When Google site is moved to the mobile indexing process, the Google cache may either show 404 error or a blank page, this is a bug that Google is working on. But, it has a zero impact on indexing and ranking.
Speed Update
According to the Google, the speed update that is coming up in July is not at all related to mobile-first indexing in any way.
Mobile website UIs: Using "hamburger-menus" and "accordions" on mobile websites is fine.

— Google Webmasters (@googlewmc) June 14, 2018
Mobile users interface concessions
Mobile websites that use accordions or hamburger menus in the smartphone user interface are perfectly fine.
On ranking: The mobile-first index doesn't change anything for ranking other than that the mobile content is used. While mobile-friendliness is a ranking factor on mobile, being in the mobile-first index is not.

— Google Webmasters (@googlewmc) June 14, 2018
Mobile-friendliness is not required
Mobile friendliness is not required for your website to be included in the mobile-first indexing process.
Ranking Myth
The mobile-first indexing has no role to play in giving you a better ranking in Google search. So, if you think of a better rank with mobile-first indexing, this is a myth.
In case you're curious, our docs on mobile-first indexing are at https://t.co/gQaVwzCV48 , https://t.co/1mglj5U5ch , https://t.co/yo4mGQZkqh , and https://t.co/hDZcbCTjVj for mobile sites in general.

— Google Webmasters (@googlewmc) June 14, 2018