May 29, 2017
Posted by:

Atul Chaudhary

Category:

Social media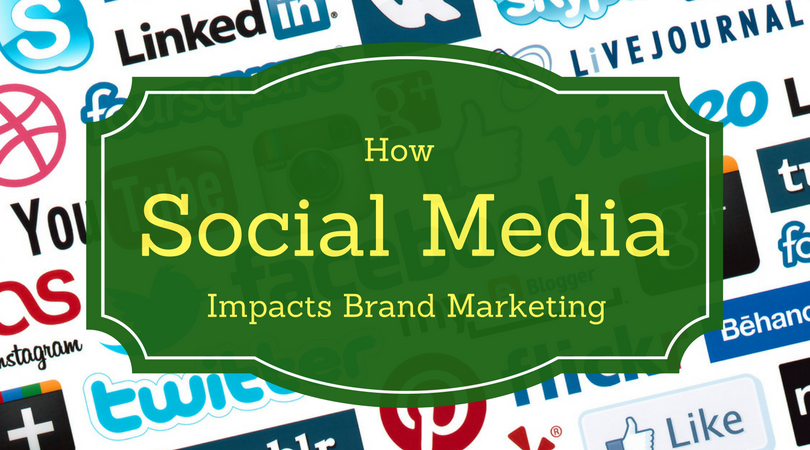 Consumer and Brands share an intrinsic relation where brands always try to position themselves close to the consumer. This relationship has moved one step further with the emergence of social media marketing.
Top brands and executives have acknowledged the importance of social media and even keenly shun their age-old marketing techniques to gain upper hand over their competitors. It is easy for them to create a presence on social media platforms like Twitter, Facebook and create good brand awareness. With social media it is easy for brands and companies to enhance their strategies, implement new branding techniques and analyze their analytics. Thus making it easier for them to know what people like or dislike, thereby getting to know the demands of targeted consumers.
What Kind of Impact?            
A lot of research shows that social media has extensively contributed to the success of brands and their marketing strategies. Not only in terms of research but even with the discovery of new products, sharing the features of products and services, etc have put most firms on the top-hole position where they are in the direct interaction with customers.
In this age of digital marketing it is simple and easy for any firm to be in direct communication with their customers. Gone are the days when customers had to wait for days and sometimes weeks to get feedback from brands and companies. But now it is a different story as social media provides easy access to brands and firms to know customer likes, dislikes and how they perceive about products and services.
Today about 60%-65% of consumers do extensive research about a brand on internet and get information about the specific brand or retailer from social media sites. Cool isn't it?
No doubt, such measures help consumers to know what they are buying, thereby creating product awareness and increasing the brand popularity. Besides that, social media users like to share their views and feedback about the products they used on various online forums and the websites of the brand. And it is vice versa, where users come across the online review of the product they are going to purchase and make their decision solely based on it.
It is not surprising for individuals to share their product feedback online. Surprisingly women consumers constitute 75% of the 'online feedback' customer since they are more inclined to provide and discuss about the product used by them with others.
The features of social media are not simply related to improving the brand image or ranking of a product or service. It plays a great role in protecting the brand and consumers. Statistics and studies show that about 60% of social media users will provide reviews about their experience on using the product, so that other can avoid having any kind of bad experience with a particular brand. For brands this is a great strategy which has a positive and negative outcome.
By getting a positive feedback, a brand can have an upper-hand over its competitors. Also even a negative feedback can result in damaging online reputation. If it happens a brand has to rethink its marketing strategies and go back to its development and product cycle stages to improvise its image. This is also applicable to after-sales customer services.
Bringing Buyers Into The Brand Strategizing Techniques
Nowadays, most of the online firms and brands have realized how much important it is to take into account the feedback and suggestions of buyers. By including buyers in the online marketing and planning procedures, they are providing a new perspective on their brand image and market positioning.
Keeping consumers in the loop provides a novel way of finding out how to make a perfect product and avoid any kind of negative feedback. Through various polls and suggestion boxes, brands and firms are showing a keen interest on what people like and how they want. Also, it doesn't end there. It even consists of following innumerable strategies like creating hashtags, campaigns, creating astonishing podcasts, making videos, and other strategies for brand promotion.
There are various firms and brands who hold competitions to make participants part of their social media think tank.  Through these competitions, participants can submit as well as share their ideas and content which is their creation. This hugely motivates them and makes these potential buyers to get the product they want or like, thereby fulfilling their requirements.
Utilizing Social Media
There are various factors you need to consider before you utilize social media strategies –
Defining the goals of your business
Utilizing various kinds of insights and analytics to check out the activities, demographics and the basic preferences of audiences
Formatting your brand related messages to suit the requirements of audiences. So, while depicting a story, it gets more relevant to individuals whom you are trying to reach and making sure the message has text, images and videos.
Optimizing your post to boost your SEO strategies and links which is linked to various relevant and optimized landing pages that is related to your site.
Using social media like a listening tool, where you are not only listening but even responding and repeating.
It is true that most of the best written content will be good for you and take you a long way. But there are chances that customers are working professionals or plain individuals who are busy dissecting their day-to-day problems and deadlines. So, the content you put must easily interest them and be useful to them.
Wrapping Up
There are a lot of activities that can help your brand to reach out the end customers in an effective manner. Like adding images to your brand is a great idea and will attract a huge number of individuals to your brand. Comparing to text, images have more attraction and engagement, and that is what social media does. It uses attractive images and captions to bring customers to your website and create sales. Thus you can clearly say that social media is a great tool for enhancing your brand and creating a good brand awareness.