December 19, 2018
Posted by:

1Solutions

Category:

Internet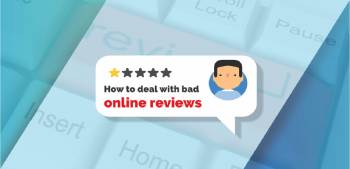 It's the worst nightmare for any business to see negative reviews on its sites. As in general, most of the new customers look for reviews only to form their opinions about any brand or company.
However, there are several misconceptions, prevailing in the market for bad reviews. Generally, Bad reviews go synonymous with bad business. Many businesses are afraid of them as they believe that they may take the potential customers away from their websites. Moreover, the biggest catastrophe for web owners is that they don't know how to handle these reviews.
But, there is no need to panic as these things happen with everyone. However, don't let the bad reviews to end your brand reputation so easily.
So if you are also sailing the same boat and don't know how to deal with bad online reviews, then here is the small guide about it, which hopefully helps you.
Be Responsive:
Just remember, bad reviews don't mean bad business. If you find bad reviews on your site, then don't rush to delete them. However, read them properly and try to work on them as an opportunity to overcome your shortcomings.
So, be responsive to such online reviews as customers expect a quick response from the authority in such cases. Moreover, if these are fake, even then you need to deal with them calmly so that they don't escalate further and affect your other potential customers.
Don't Lose Your Professional Tone:
Different social channels give access to the customers to write down about the products and services, they used. They all are free to write good or bad about the brands. However, being a professional person, you are not supposed to lose your polite or professional tone while responding to bad reviews online. Moreover, take it as your duty to answer them so don't take it personally or blame others as it leaves a wrong impression on other customers too.
Be Ready to Serve on Off-line Platforms:
On receiving the bad reviews, your primary goal is to solve the customers' issues at the earliest. In case if you find that it is a little difficult to handle the scenario online then, switch to offline medium.
For instance, if you are a seller of washing machines, and your client reported a bad review for your product, then you can visit his home to recover the technical glitches.
Encourage Customers to Write Reviews:
Customers reviews are your true report cards and give an idea of your past working in front of your new audience. So without any fear of good or bad reviews, encourage your customers to write reviews online across different platforms. As if your competitors ever try to game on you, then the collection of genuine reviews from your customers can become your advocates.
Wrapping Up:
If you are doing a business, then it's natural to encounter at least a couple of bad reviews. However, it does not mean that everyone who has gotten bad product reviews or negative experience from the customers, closed up the shop.
Here, the important part is the way you deal with them. Give a read to this post and try to implement them, when you receive bad reviews from your client. We hope these will work in your favour and turn each of your bad reviews to an opportunity to learn and develop.