December 20, 2018
Posted by:

1Solutions

Category:

Content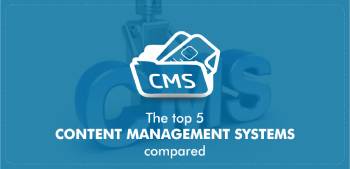 Content is the real king that has all the powers to rank any website in search engine result pages. If there is no content, there will be no ranking and ultimately no sales and leads. The overall growth of your website revolves around the high-quality content.
Content Management System or better say CMS is solely responsible to manage the creation and modification of content on online platforms. Here are the top 5 CMS which cater to different needs and different budgets. So give 2 minutes read to this post and choose your best fit.
WordPress
WordPress is one of the most widely used open source CMS across the globe. It came into existence in 2003 and after that, it revolutionizes the entire online content world. It offers a myriad of tools to serve a compelling content, embellished with captivating images, videos. Either hospitality or fashion house, whatever be your niche, a vast amount of pre-made or third party themes help to produce something unique and better.
Although WordPress is free but it won't run by itself. You need to buy a host and its pricing may vary according to the server. It may cost around $10 – $30 per month for shared servers and $150 – $300 per month for dedicated servers.
Magento
When we count on e-commerce platforms, Magento is a leading Content Management System. The best part about Magento is, it deals in both B2B and B2C industries. It is an open source and loaded with multiple functionalities to offer best online-shopping experience to its users.
As a CMS, it can create rich content for your any e-commerce websites which helps to distinguish your store from others. Although it is complete in itself yet can be integrated with WordPress, Joomla and other CMS for better payouts.
So you can create a customized module for your website according to your requirements with Magento.
Squarespace
If you are having a small business and needs the most design-oriented CMS, then Squarespace is the best fit. It is as efficient as WordPress and offers multiple themes for developing a captivating website. However, it is not an open source so you are not supposed to install it directly from the web.
Despite, beginners or non-techy users love to work on Squarespace because of its functionality. It allows them to design from scratch without any prior technical knowledge or website developing experience.
Weebly
If you are planning for a simple website, then don't miss the Weebly as a CMS. With drag and drop functionality, it caters a simple website within a few minutes. You are all free to add or to remove anything whenever you want.
So, if you are dealing with a tight budget then there is a free basic version of Weebly otherwise the cheapest version is available at the price of $8 per month.
SilverStripe
Silverstripe is a powerful content management system, launched by highly professional developers of the field. Anyone can access this platform to design a potential website. However, it is always under the direction of specialists of SilverStripe in Australia and New Zealand. It is so flexible that it can be used for any commercial or public entities. So, if you want a simpler and effective solution to design a website, then missing it out can be a costly mistake.
Wrapping up:
Just remember CMS is a backbone of the digital business world. So according to the key strength, budget, and technical difficulty, choose the best fit for your business. Google has more than 200 factors for ranking a website so make full use of CMS and earn better leads and sales in the future.