July 22, 2016
Posted by:

1Solutions

Category:

Google analytics, SEO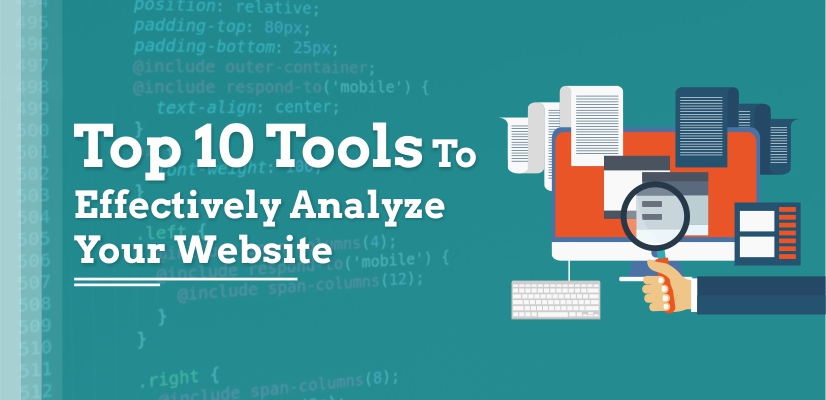 For any SEO expert or content marketer, a sudden Google algorithm update is a challenge which sometimes make them confused and concerned. While arranging the ducks in a row, a sudden algorithm change forces them to rearrange the ducks. But the good thing is that the rearrangement results in more relevant search results. If you are able to judge the Google algorithm, you can rank your website on top of searches without any worries.
However, there always remains a dilemma about how Google does evaluate a website. There are no sure ways, but just some rules to follow to get into its search queries. Once you get properly enlisted in its search queries, you need to maintain your position. For this, you have to keep analyzing your website to get greater insights about its performance. A proper analytics system will be very helpful to know what exactly works for your website.
We have researched on the most effective analytics tools that have a track record of proven correct statistics and results. Let us enlist the best 10 of them:
1. Google Webmaster Tool:
What could be better way than asking Google itself about how it sees your site? Google Webmasters tool is a simple tool developed by Google itself to explain the fundamentals of the Google search practically. Page Speed Insights, Fetch as Google etc. are just a few examples of its embedded features.
Cost: Free
2. Google Analytics:
A WordPress content management website has no better option than using Google analytics for your website. A Google analytics plugin is provided by Google, which can be used to see the Google Analytics Stats result. This result can be seen directly on your dashboard. Google analytics works better with other Google softwares. 
Cost: Free
3. Wordstream:
Wordstream is more marketing centered software. By the use of this tool you can make changes in your site by being aware about its financial effects. The analytics reports produced by the Wordstream are useful specifically for any search engine marketing campaign of the website.
Cost: Free
4. SEO Report Card:
This is an analytical tool that helps you to see your website against that of your competitors. This simple and free small tool generates a report which includes: rank analysis, on-site analysis, back-link sites analysis, website accessibility analysis etc. You can even find about your site's level of trust in the market with its help.
Cost: Free
5. Woorank:
This tool is ranked very higher in SEO circles. While analyzing your website it takes into account all the SEO practices followed by you. Each report produced by this tool is divided into 8 sections: 1) Marketing Checklist 2) Mobile 3) Usability 4) Social 5) Technologies 6) SEO 7) Visitors and 8) Local. Thus, in all, it provides you with ample opportunities to improve. You can even download its reviews.
Cost: Trail version: $49/m and Premium Plan: $149/m
6. Open Web Analytics:
This tool is compatible with Google Analytics. But the major feature of this tool is that it is open source software, which can be altered to suit any needs. This tool gives you a very fair idea about how people use your web sites. The tool is impressively effective and helpful for those who enjoy working with open source softwares.
Cost: Free
7. Check My Links:
This is a tool which basically focuses on the analysis of internal and external linking structure of any website. This helps any publisher of a web page to search for the scope of any corrections before making any page live. It searched for the broken links within seconds.
Cost: Free
8. Moz Pro:
This tool is excellent for the one who is really serious about the website's crawlability factors. It searches quickly about the duplicate content or any redirects that could influence your SEO optimization effort.
Cost: 30 Day Trial: Free and after that $99/m.
9. PIWIK:
Piwik is again open source software. It is a real time web analytics tool which provides us with the detailed reports about the visitors of your website like form where they belong, which language they speak etc. PIWIK is a PHP MySQL based software and is an open source alternative for Google Analytics.
Cost: Free
10. Varvy's SEO Overview Tool:
It is a SEO auditing tool which gives a comprehensive report about your website with green checks, yellow exclamations and red Xs, These colors determine the severity of the issue. It evaluates any website on the points like social counts, page speed, domain strength, technical SEO etc.
Cost: Free
Conclusion: In this comprehensive list of the web analytics tool, we have tried to include tools that are free and which specialize in monitoring different aspects of websites. Some tools analyze the linking structure of the site, while some other tools analyze the page speed. So, in all, you can try these tools together, to get the larger picture about the performance of your website and the improvements it need.