April 23, 2016
Posted by:

1Solutions

Category:

ecommerce, website designing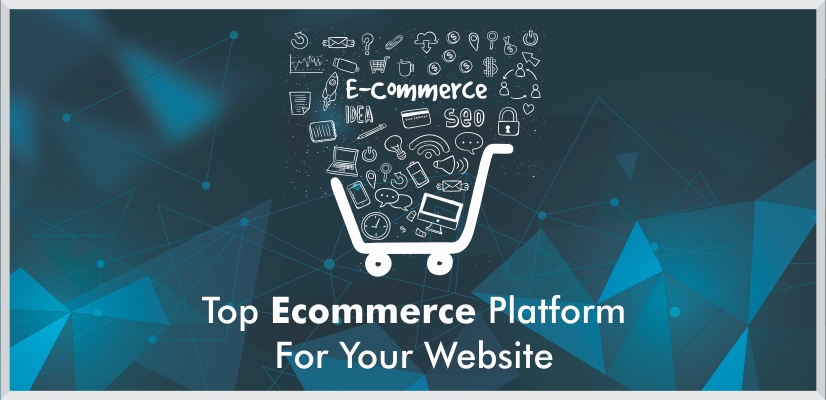 eCommerce  is the booming trend of the present era. Thanks to the increase in usage of Internet and smartphones, the popularity of this media are soaring high at a spectacular rate.
Of late, it has been observed that owing to lack of time, the current tech-savvy generation prefers online shopping to traditional ones. Observing this changing marketing trend, majority of industry bigwigs and SME are opting to sell their products via the ecommerce media. They have understood the fact that selling via online will not only popularize their brand but also bring in more revenues.
Apart from various ecommerce development companies, the market abounds in various ecommerce platforms. Each of them boasts of having the best infrastructure and service. Thus, it becomes difficult to choose the perfect ecommerce medium for any website.
Here Follow Some Of The Top Ecommerce Platform For Your Website:
It is one of the most popular ecommerce brands present in the market today. Shopify is equipped with an easy setup, spectacular loading speed and secure payment gateways. All these attributes make it a good choice for starting an online business.[bctt tweet="Shopify is equipped with an easy setup, spectacular loading speed and secure payment gateways." username="1solutionsbiz"]
This is another effective ecommerce platform to start your online business. It is a free WordPress plugin and is equipped with all the facilities just like the WordPress. The striking feature of this platform is that it is completely customizable. Apart from this, it provides good loading speed and secure payment gateways.[bctt tweet="Woocommerce offers the simplest yet free ecommerce platform for users. " username="1solutionsbiz"]
This ecommerce platform is comparatively new in the market. With its spectacular performance, this platform has earned widespread popularity within a very short span of time. What distinguishes Yo!Kart from other brands in the market is the multilayer layer security offered by it. Apart from this ,the key features of this platform are [bctt tweet="Yo!Kart is a fully customizable, easy setup, multivendor, intuitive user interface ecommerce platform." username="1solutionsbiz"]
This medium is equipped with a large numbers of inbuilt features like the free access to upload large number of products, fully functional website, large storage and bandwidth. Apart from this, it also contains attributes like the gift cards, customer reviews and ratings. Not only that, it has very good customer support system. The platform is loaded with different guidelines to ensure smooth operation such as video guides, set up wizard, auto responsive emails and much more. All these features make it easier for the user to use the platform.[bctt tweet="BigCommerce offers easy bulk product upload, large storage, bandwidth and good customer support system." username="1solutionsbiz"]
Magento ecommerce platform is specially aimed for large-scale retailers of the market. Apart from being a fully customizable platform, it also enjoys high-level security. Not only that, it also supports multi-currency and can be operated in different languages. Another striking feature is that it very user-friendly can run on mobile platforms as well. Other distinguishing parameters are higher ranking in search engine optimizations results, user-friendly admin settings, innovative navigation facilities and much more.[bctt tweet="Magento is one of most loved ecommerce platform present in the market today. " username="1solutionsbiz"]
Read more about:- How To Attract Customers on Your WordPress eCommerce Store