June 25, 2016
Posted by:

1Solutions

Category:

Social media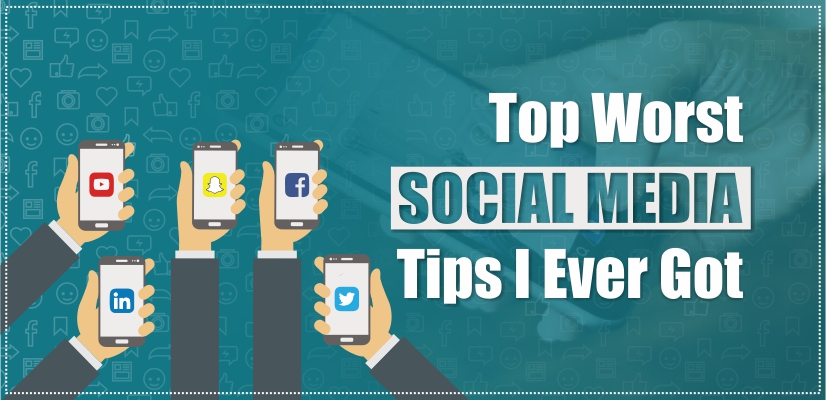 You Don't Need eMail Anymore
This is among the first and probably among the worst tip you will ever get. Social media is mostly for connecting, possibly with more than one person at the same time, but it is not a direct replacement for one to one communication, in which email is and will always remain the king .In any case, One of the first steps towards joining any social media site is to provide a verifiable email id. So there.
Quantity Is Important Over Quality
One of the often given social media tips is that the more you post the better it is. It isn't actually like on most other places, Quality definitely wins hands down over quality. It is to be understood is that users are getting more and more overwhelmed with the sheer amount of content on social media pages and have begun not to return back to sites where they feel they have been short charged on the time spent. Having a presence on a huge number of social media platforms and updating posts on quick intervals is no substitute for the great quality of content.
You Can Have Somebody Else Do It For You
Social media can be but shouldn't be outsourced in a hurry. Social media conversations are almost personal conversations with the audience that require personal jurisprudence and expertise, at the same time unique contexts. Whereas it is popular these days to have self relegated experts managing your social media in its entirety, it is not the best way to go and if at all, strict controls must be practised in monitoring the content published in your name. It's your name, after all. Hire an expert Social media company for the job.
[bctt tweet="#SocialMedia Tips : Never let others post on your wall, it can be bad for your Business." username="1solutionsbiz"]
Disable The Comments
So you like bouquets and not the bricks. Well everybody and their cousin do. Unfortunately, you don't really need the social media to tell you that it's not how it works. You get bouquets, you get brickbats and you take them in your stride, do the needful and move on. Disabling comments, especially with the view not to have bad comments visible are socially incorrect as well as unwise. At one level, it defeats the entire purpose of the "social" part of the social media. If you don't allow users to put comments on your page, they will put it on their own. Which is worse because you will not get a critical comment which could've helped you to improve. It also gives you an opportunity to manage the situation by providing your own comment and putting forward your point of view.
You Don't Need Any Strategy
Whereas the social media is free to use, it must involve some kind of strategy to maximise what you expect out of your time and effort spent on that particular platform .It is important and wise to spend a little time in finding out ways to optimize your engagements with your target clients/users and to move forward in that direction.
You May Also Like: How To Increase Your Social Media ROI With Facebook Reactions