July 16, 2018
Posted by:

1Solutions

Category:

SEO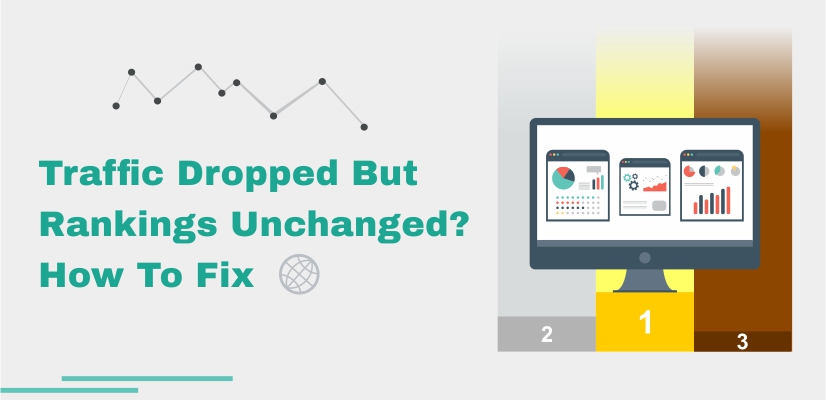 Traffic dropdown without bringing any change in the ranking happens due to the external factors. This can happen due to minor errors like with a coding one. But, sometimes there still are various issues which can be fixed internally to fix this whole problem. Here we will tell you about how we can fix traffic dropped without changing rankings.
Product Disruptions
When the drop in ranking happens it's an indication that the customer behavior to your product has been changed. This happens when something disruptive comes in the market. For example- the way how Uber and Ola has disrupted the taxi industry. There are tools to check whether your ranking is affected by any external force or not. Google Trends is the best tool for validating whether your ranking is going up or down. Observe the pattern. If the trend is steadily downward, then something has changed. Hence, this situation requires an investigation to know what is disrupting your industry.
When the change happens overnight then the problem is based on how the search results are displayed or how the site is displayed. The one case can be if the browser is issuing the warning for insecure sites. If that is not the case, then the reason for the overnight drop in traffic without a change in rankings is a change in how Google is displaying search results.
Changes in Search Engine
If Google is showing more snippets at the top of the page then that can contribute to fall in ranking. An increase in a video near or beneath the top of the organic search results can cause such a drop. Also, voice search could be a contributing factor to the drop in the traffic.
Google is now showing advertising carousels at the top of many SERPs. This can also one of the reasons. An additional (mobile) screen filling ad unit beneath the carousel ads. This can also contribute to bad traffic.
When fixing issues, the first thing you need to keep in mind is that there is nothing wrong with your site. It is just that there are a few changes that you need to make to get back your lost traffic.
You need to find what actually the reason is to fix this problem. If featured snippets are impacting your rankings then you need to change the way how you create content. Creating content in such a manner that can be visualized in a featured snippet is a good approach. While crafting next article keep in mind to make it so that it can fit into a featured snippet. Construct some paragraphs as if you're constructing featured snippet, including an image that aligns with the content.
It is important to understand the wide range of content that Google tends to rank for featured snippets. You can also increase video content and if you are satisfied with featured snippets then it's up to you to create featured snippet friendly content.
With implementing some tools and following Google's guidelines properly, you can reclaim your traffic again.