March 10, 2016
Posted by:

1Solutions

Category:

SEO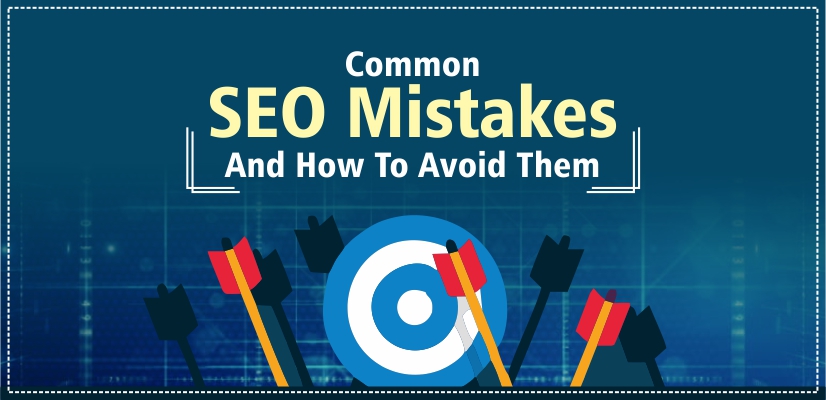 Top organic rankings is the goal of every SEO and there are many elements linked to a SEO strategy. However sometimes we commit some very common SEO mistakes that hinder our SEO process. More than 60% of the people who search web click the top 3 search results and around 80% of the users never search beyond 1st page. This underlines the importance of ranking on top. It doesn't matters if you have a good looking site or you have good content in it. Unless and until the website is optimized for SEO properly, it won't appear in top searches. Lets understand what are the common SEO mistakes and how one can avoid them.
Mistake #1 :
Slow Loading Speed: A user hardly spends 4-5 seconds on a website while it loads. If the loading time is higher, changes of him navigating away are strong. Often we lay emphasis on design, content and images but not on website speed. A slow loading website is the biggest hurdle in your SEO. If your website is slow, get it optimized for speed.
Fix : There are free tools like GTmetrix and Google page speed to help you with it.
Mistake #2 :
Weak Content/Duplicate Content: Hardly 10% of the webmaster pay attention to the content quality. While every single effort is done to make the website aesthetically pleasing and user friendly, content is left out. We often tend to copy the content from other sources which is a bad practice. You should have good content in your webpages. A good content can built the website and bad can destroy it.
Fix : Check the website pages for text to code ratio, duplicity as well as keyword density. Use free tools like copyscape.
Mistake #3 :
Your Analytics Isn't Installed Properly: A website without data insights is as good as nothing. Unless you have analytic and webmaster installed properly you can't set your campaign straight. Often we forget to install the webmaster or analytics. This will result in loss of website traffic and other important statistical data. One can use this data to check the website performance.
Fix : Integrate Google Analytics and also verify it. You can add tracking code in your header or footer file via FTP or cpanel directly.
Mistake #4 :
Forgetting Image Tags: Search engine crawlers are unable to read the images. But this doesn't means that the images are useless for SEO. You can get good traffic for your website if your images are shown in search results for a particular set of keywords
Fix : Add Alt tags to your images. Also make sure to add proper description in your images. It will help the search engine crawlers to index your images properly.
Mistake #5 :
Not Researching Long Tail Keywords: This is one of the common SEO mistakes most of the search engine optimization companies do. They tend to target two phrase keywords for their SEO campaign ignoring the potential of long tail keyword. As a matter of fact, long tail keywords give more qualified traffic and leads.
Fix : Research long tail keywords and add them to your list of target keywords. You will be surprised to see that you website might be ranking higher for such keywords. With little push you can get your website on top of search results.
Mistake #6 :
Ignoring Local SEO: Local SEO is very important for your business. If you are business targeting local customers you simply cannot afford to miss out local SEO. Missing local SEO is one of the SEO mistakes webmasters do. Having a local optimized site can bring good qualified leads for your business.
Fix : Optimize your website for local SEO. Submit your website in the local search directories. Make sure that you have the proper address and contact details in your website. Adding rich snippets to your website helps a lot in local SEO.
Mistake #7 :
Missing XML Sitemap: Sometimes you make such a silly SEO mistakes like missing XML site maps. While a wordpress website automatically generates XML sitemap if you have installed any SEO plugins. You might miss this luxury if you have a custom coded website.
Fix : You can generate a XML site map from many free XML site map generator websites in few seconds. You just need to input your URL and you will get the site map in XML format. Once it's done you can add it to your site via FTP client.
Mistake #8 :
No Robots.txt: Web site owners use the robots.txt file to give instructions about their site to web robots; this is called The Robots Exclusion Protocol. A common robots.txt file looks like this –
User-agent: *
Allow:
Fix : To understand what robots.txt file you should have read Robots.txt
Mistake #9 :
Not Using 301 Redirects: 301 redirects are very important for a website. Missing 301 redirect in your website can results in 'redundant hostnames error.
Fix : Use .htaccess file to implement a 301 redirect or read 'how to fix redundant hostnames error'
Mistake #10 :
Changed Link Structure and URLs: One of the common SEO mistakes is the changed link structure and URL. Sometimes we change the link structure of the website to help it perform better in search results and make the display URL user friendly. But this can be disastrous if URL redirection is not implemented properly. Not only you will have a 404 error problem but will also lose the important backlinks that you created earlier for the old URL. This problem is common when you are going for a new ecommerce website development.
Fix : Using .htaccess file you can implement redirection easily and redirect the old URLs to new URLs. Using this line in your htaccess file you can get the old url redirect to new url. Replace example.com with your domain and /oldfile with old url and newfile.htm with new url.
Redirect 301 /oldfile.htm http://example.net/newfile.htm
If you are able to take care of these common SEO mistakes, It will boost your website in organic search results and help you achieve good online traffic.